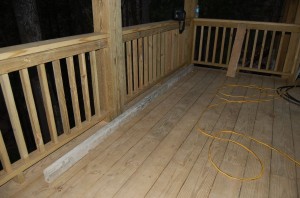 Does your deck seem to tilt or lean? Is it lower in one corner or on an entire side? Does it look like it is detaching from the house? It is not uncommon for deck posts and support columns to sink over time. As the posts and columns sink deeper into the ground, the deck is compromised and begins to sag and become unlevel. At the first sign of sinking, it is imperative to evaluate the deck's safety. Even minimal settling is a safety hazard and can lead to costly repairs if not handled promptly.
With the cycles of freezing weather, we have had in the Atlanta area, soil can shift and cause further settling. This can worsen the stability of the deck and possibly render it unsafe for use. Many people try to build up the areas where the sinking is obvious, but never really address the root cause. Just replacing a post or two may bring a deck or porch back to level, but it is likely only a temporary fix. At Anglin's Foundation & Masonry Repair, we will identify the cause of the sinking and fix the problem once and for all.
When the column on a deck post settles, the supports begin to lean and can eventually pull the deck down. To make the deck level and safe again, many times the old footings will need to be excavated and replaced. With more than 90 years serving the residents of Atlanta, we have the experience and skill to diagnose and repair deck post problems with footings and foundations.
Call on Anglin's Foundation & Masonry Repair to correct your deck post problem. We will work to stabilize settling posts and restore the integrity of your foundation. When the winter winds stop blowing and spring arrives in a couple of months, your deck will be safe again and ready for outdoor dining and entertainment. Contact us today for a free estimate.
Posted on behalf of John Anglin, Anglin's Foundation & Masonry Repairs