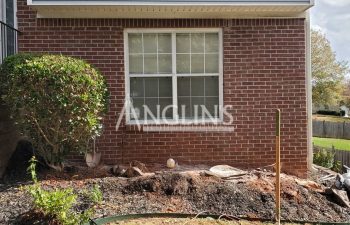 Now that spring is finally here, many people are getting outdoors to enjoy the warmer weather. As they take walks in their neighborhoods or sit in lawn chairs to relax, many people are looking around their property and planning landscaping projects. If this describes you, make sure you consider your home's foundation before undertaking a project that may cause disastrous damage. To ensure you achieve both beautiful results and avoid compromising your foundation, here are a few things to keep in mind while landscaping around your foundation.
Tips For Landscaping
Don't place trees and large plants too close to your house. Trees and large plants need room to grow. When planning your landscape, it is important to space your trees and large shrubs according to how big they will get – now the size they are when you buy them. You also need to remember that roots from trees and plants will spread far and wide. If roots expand close to your foundation, they can cause damage to the structure of your home.
Make sure gardens and flowerbeds slope away from your home. The last thing you want is to have water flowing towards your home. You want to plan gardens and flowerbeds so that they slope away from your home to avoid pooling water, swelling soil, uneven terrain, damage to your home's structural stability.
Mulch, mulch, mulch! Keep your flowerbeds and gardens well mulched. This will ensure that the soil maintains a balanced moisture level that won't get too dry or retain too much wetness in the ground.
Water plants near your house. Large plants and trees can seep moisture from the soil. You need to ensure that your largest landscape plants get enough water to prevent soil shrinkage. The ground beneath the foundation of your home needs a balanced amount of moisture to remain level. Large plants must receive the water they need so they are not "stealing" from the ground beneath your home.
Avoid too many plants, gardens, and flowerbeds. While it is easy to go overboard on beautiful landscape projects, you do not want to completely cover your home's foundation with plants.
Make sure to leave a few four-foot areas of the foundation exposed for safety. These areas will help create a balance for the foundation of your entire home.
Posted on behalf of John Anglin, Anglin's Foundation & Masonry Repairs