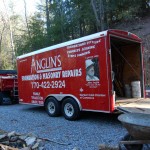 Pre-construction piers are a type of structural pier that is installed below a structure before it is built in order to make the foundation more structurally sound. One of the biggest expenses a home owner can face is having to pay for foundational issues of their home because the correct foundation system was not utilized when the home was constructed. At Anglin's Foundation & Masonry Repairs, we are Atlanta's trusted source for pre-construction pier installation. With over 90 years of experience, we have faithfully served homeowners and business owners with our full service foundation and masonry contracting services. Our knowledge, expertise, and years of experience have given us the ability to provide stable foundations that last for a lifetime.
Soil issues are one of the greatest causes of a home's foundation to become compromised. The average home weighs upwards of 600,000 pounds – which is an incredible amount of weight to rest upon weak or compromised soil. At Anglin's Foundation & Masonry Repairs, we pay attention to the potential of soil issues such as buried debris, clay, muck, and sinkholes – because any of these issues has the likelihood to damage and threaten the foundation of your structure.
Anglin's Foundation & Masonry Repairs specializes in installing pre-construction piers below a home or structure before it is built. A pre-construction pier is driven with exactness deep into the ground until it rests securely upon the underlying load-bearing strata layer of the earth. By installing this deep foundation system prior to building a home or other type of structure, you can ensure that your structure will be stable for years and years to come.
Anglin's Foundation & Masonry Repairs has been in business since 1930, and our experience and knowledge are proven and guaranteed. Before you invest your hard earned money into what will probably be your largest investment, make sure you take precautionary measures to prevent issues. Pre-construction piers are cost effective when compared to other retrofitted soil improvement systems, and they are worth their weight in gold at preventing expensive foundational repairs in the future. Contact Anglin's Foundation & Masonry Repairs today for more information or to schedule a free quote for installing pre-construction piers.
Posted on behalf of John Anglin, Anglin's Foundation & Masonry Repairs