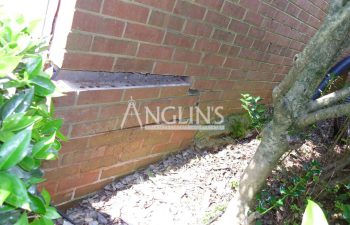 If you are a property manager of a commercial property, you understand the amount of stress that comes with dealing with people's problems – because they are your problems. Whether you have tenets submitting work orders, you are facing a fine for being "out of code," or you are receiving complaints because windows are sticking or there are cracks in the walls – as a property manager, those are issues that fall on you. While at first glance, some problems may seem like cosmetic issues, they could point to a more significant issue underneath the surface: foundation failure.
Re-grouting brick or patching drywall will not stop these issues. The issues will reappear and will have gotten worse if foundational settlement is the culprit. Trying to apply a "quick fix" to commercial foundational problems will cost you severely in the long run.
Anglin's Foundation & Masonry Repairs has been faithfully serving business owners and commercial property owners throughout the greater Atlanta metropolitan area since 1930. With over 90 years of experience, we are the experts at diagnosing and repairing foundation problems. Our reputation has been built on quality workmanship and proven value. We use only the highest quality materials for all of our repair work, and we stand firmly behind our work with a lifetime guarantee. At Anglin's, we fix it right the first time.
Foundations throughout Georgia are more susceptible to sinking and settling problems due to less than ideal soil composition, less than perfect construction, and structural foundation problems. Clay soil is problematic, and large commercial properties that begin to settle can threaten the stability of the entire structure and require expensive restoration and repair services.
If you need a foundation repair contractor, Anglin's Commercial Foundation Repair Services Contractors is the name to trust. Before starting any work on your commercial property, we will thoroughly inspect the entire property to determine the root cause of the problem. Once the cause has been identified, we will determine the proper methods for correcting the problem.
We look forward to serving you with expert commercial foundation repair services. Call us at (770) 422-2924 today.
Posted on behalf of John Anglin, Anglin's Foundation & Masonry Repairs