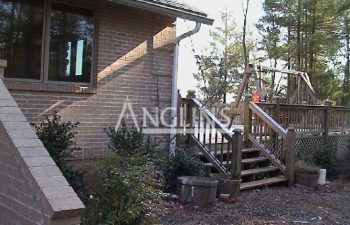 In preparation for the late spring and summer months, many people are outside a great deal. Back decks are popular home environments that families enjoy during this time of year. With mild temperatures in Georgia lasting from April through October, you want to make sure your back deck is ready for use.
Much like a car, the cost of repairing a deck can vary greatly. You will need to evaluate the cost of repair versus the cost of replacement. Pouring money into a rotting deck each year is similar to pouring money into a rundown vehicle – you lose more money than you gain in return.
Most of us put some time, energy, and money into preventative measures around our cars and health. We have the oil changed in our car frequently (or at least when the dash light has been on for a while), we try to keep annual appointments at the doctor, and we visit the dentist at least once a year. Well, it is also vital that we also put some effort toward preventative home repair.
It is a good idea to take time once a year to walk around, inside and out, of your home and take a good hard look at each major part of your home's construction. If you notice cracks in your brick, sagging windows, doors or windows that stick, or rotting wood on your deck – it's time to take some action.
When it comes to your back deck, four areas need specific attention:
The surface of the deck

– deck floorboards, handrails, and railings.

The deck posts

 – these are the supports that hold it up off the ground.

The beams and joists

 – these are the horizontal pieces of wood beneath the deck that support the deck boards.

The fascia board

 – this is a wide, thin board that wraps around the perimeter of the deck that conceals the ends of the deck boards.
If there is any sign that the deck posts or support columns begin to sink into the ground, your deck can become unlevel and unstable. Floorboards, railings, fascia boards – these are all much easier repairs. Yet, without good foundational support, your deck could collapse and cause severe injury or death to family, friends, or neighbors.
At Anglin's Foundation & Masonry Repairs, we have helped hundreds of Atlanta residents with deck post repair services by repairing problems with footing and foundations. Yet, we also appreciate the value of your deck. If the cost of repairs starts to get close to the cost of replacing the entire deck, we will let you know. We are not focused on how many jobs we can win – we are focused on providing our customers with the best services.
If you notice damage to your deck, give us a call. Our family-owned and operated business offers a free quote and price protection guarantee. We are here for you.
Posted on behalf of John Anglin, Anglin's Foundation & Masonry Repairs