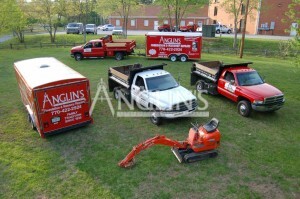 Some things are always worth fixing. Sure, you can always live with a broken tooth, a cracked windshield, or a broken air conditioning unit in July – but your quality of life will be dramatically improved if you repair these issues. Another issue that is always worth fixing is a sinking slab. Whether you have a sinking concrete slab in your basement, as the foundation of your home on a concrete slab, your garage, patio, or driveway – sinking concrete can pose a huge danger.
When it comes to repairing sinking concrete slabs, you need to know more than just how to lift concrete. Leveling floors and concrete slabs is just one part of the solution. It is also important to address the root cause of the problem. There is no point in paying money towards a solution that will ultimately not correct an issue and leaves your home vulnerable to the problem happening again.
One of the main causes of sinking concrete slabs is that the soil underneath the concrete is not foundationally sound. Drainage issues, sinkholes, and unstable foundations are the main causes of sinking concrete slabs, and they require professional intervention to correct the problem.
Anglin's Foundation & Masonry Repairs understands that many times the total solution for a problem includes two steps. For repairing concrete slabs, one step we use is to utilize mechanical means of leveling floors, support beams, and other structural members. The other step is to address the root cause of the problem so that it does not happen again.
Our company has been in business since 1930, and we have worked on almost every type of residential foundation design. Our experience working with homeowners to correct sinking concrete slabs in Atlanta is unmatched by any local competitor. We have a commitment to excellence and a price protection guarantee. Our trained experts use state of the art equipment and systems to provide the highest quality service. Anglin's is a name you can trust, and we are happy to provide an extensive list of references and partners.
Contact us today to receive a free quote for your sinking concrete slab repair.
Posted on behalf of John Anglin, Anglin's Foundation & Masonry Repairs