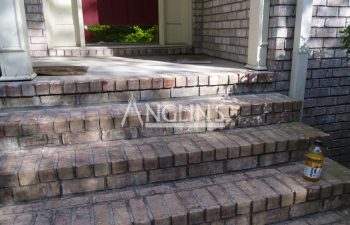 When people arrive at your home, you want them to feel welcome and safe. One of the most popular areas for people to enter a home is through the front door. Front steps and front stoops are common places for foundation problems. Often, front stoops, stairs, and porches are built directly on fill dirt outside the footprint of a home. Over time, this dirt can settle as the soils consolidate, causing the front stoop area to pull away from the house. Correcting this problem is important for the safety of those who use your front stoop and for improving curb appeal to your home.
When it comes to fixing your front stoop, you have two options: repairing it or replacing it. The underlying cause of the issue will be a significant factor in how the issue is fixed. If the steps are pulling away from the front stoop, this is a much smaller project. The steps can be removed, and the ground beneath the steps can be built up to support the weight of the front steps. Masonry repair can then be done to attach the steps back to the front stoop.
However, if the entire front stoop is separating from the home, this is a much bigger issue. If the ground beneath the stoop has settled, its foundation is no longer in the correct position to support the front stoop. This bigger project will likely entail removing the footings and adding new footings, installing some deep foundation helical piers, jacking up the front porch and setting it on new posts, or underpinning existing columns with helical piers. Obviously, this is not a DIY project!
At Anglin's Foundation and Masonry Repairs, we have been providing expert foundational repair services to Atlanta residents for over 90 years. Because we are also experts at masonry repair work, we are your one-stop-shop for major home projects. Our contractors use state of the art equipment and systems to provide professional repairs, and our commitment to excellence has made our company one of integrity. All work is backed by our Price Protection Warranty and John Anglin's Personal Guarantee. We will not be undersold, and we provide a lifetime, transferable warranty on all repairs.
Contact Anglin's Foundation & Masonry Repair today.
Posted on behalf of John Anglin, Anglin's Foundation & Masonry Repairs