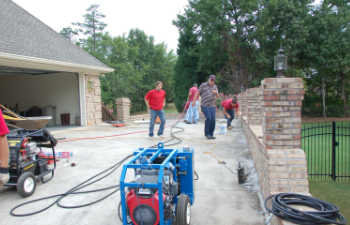 Over time, even the most cared-for concrete sidewalks and walkways will begin to show the effects of erosion, soil settling or other natural factors. This can lead to sinking, buckling and uneven walkways; it's certainly an eyesore, but is it cause for immediate action? The answer may surprise you.
The Scary, Hidden Risk of a Sinking or Uneven Sidewalk
You know your home's property value is affected by its curb appeal, and no one wants to have an unsightly, damaged walkway on their property. The risks stretch a bit beyond aesthetic damage, though. First and foremost, an uneven walkway is a serious safety hazard. You and your household may be accustomed enough to the quirks of the walking surface to remain reasonably safe, but the same cannot be said for delivery professionals, service people or visitors.
If someone visiting your property in a professional or personal capacity falls and is injured because of using your walkway, you could find yourself at the center of a legal battle. Georgia premises liability laws are written to protect anyone who could be injured because of a property owner's negligence. This means you have a legal responsibility, as a homeowner, to repair this area of your property. It's important to remember this applies not only to people who have been expressly invited to your home, but also anyone who arrives uninvited.
Why Speedy Repair of a Sinking Sidewalk is a Great Investment
In an uncertain economic climate, many homeowners are prioritizing home maintenance and repair tasks to ensure they are affordable. Triaging home repairs is a stressful experience, but nothing compared to the stress, anxiety and financial burden of a lawsuit. Fortunately, repairing an uneven or sinking sidewalk can be quick, easy and altogether painless.
A knowledgeable concrete leveling professional can remedy most sidewalks and walkways in a single day, and the repaired walkways can be used that day as soon as the work is complete. Using an eco-friendly foam injection process works almost instantly, giving you one less thing to worry about in an already uncertain time.
Don't let a sinking, buckling or otherwise uneven walkway be the reason you find yourself in a court of law; it's just too easy to address to be allowed to wreak such havoc. Call or contact Anglin's Foundation and Masonry Repair today to learn more!
Posted on behalf of John Anglin, Anglin's Foundation & Masonry Repairs